Overview
A lifestyle home in South Mumbai, Byculla beckons the chosen few. Offering a sweeping view of Mahalaxmi Race Course, Rani Baug and even the Arabian Sea, The Baya Victoria is an address with old age charm and new-age connectivity.
Located just one minute from the Byculla Railway Station and just a few minutes from Mahalaxmi, this stand-alone exclusive tower is an epitome of a breezy life in the heart of South Mumbai. Laced with thoughtful amenities and superlative connectivity, this is an address designed to add value to the entire catchment and your life.
•

23 storeys

tower
•

1 Parking

Included
•

Sample flat

ready
• Project Status: OC received
* Govt. Taxes Extra. T&C
FINANCE SCHEME
Pay 5% at the time of booking. To know more details about the various finance schemes available, contact us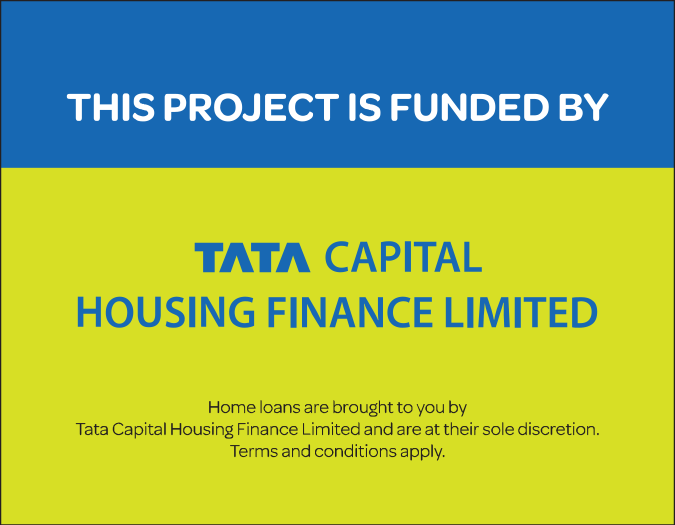 Home loans are brought to you by TATA Capital Housing Finance Limited and are at their sole discretion. Terms and conditions apply.
Project Location
Site Address: The Baya Victoria, Off NM Joshi Marg, Opp Byculla West Station, Byculla (W), Mumbai 400 011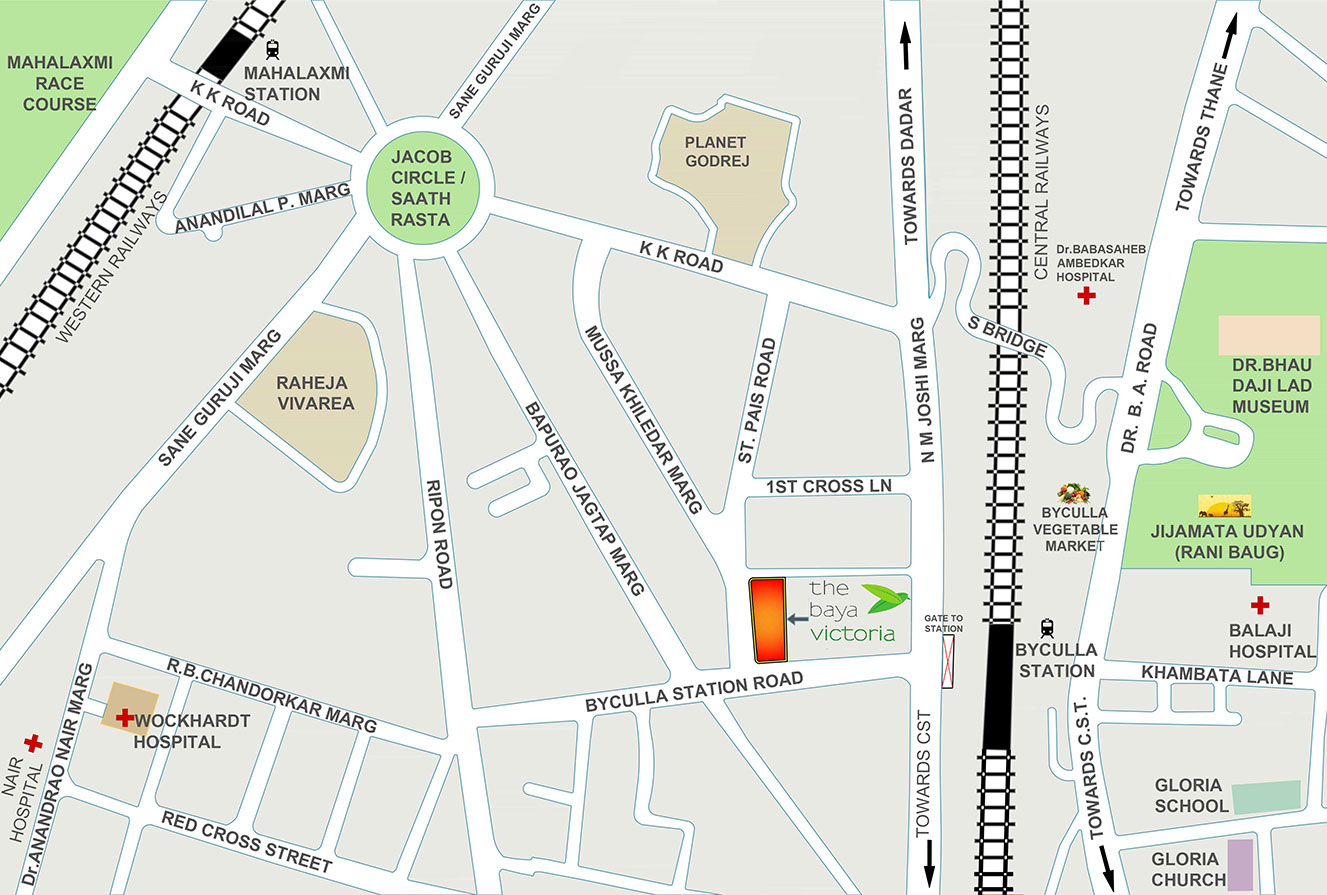 Location Advantages
Site Address: The Baya Victoria, Off NM Joshi Marg, Opp Byculla West Station, Byculla (W), Mumbai 400 011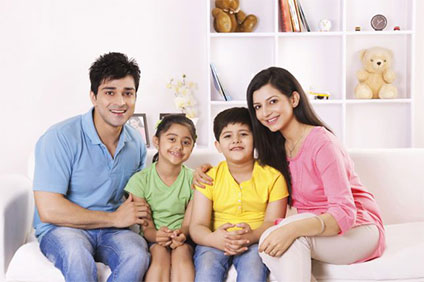 Railway Stations
Byculla Station: 84mtrs
Mahalaxmi Station: 1.2km
Mumbai Central: 2.6km
Roads
Eastern Freeway Mazgaon : 5.2km
Education
MH Saboo Siddik Polytechnic: 1.6km
B D Somani International School: 8.1km
Villa Therasa High School: 5.2km
Recreation
Mahalaxmi Race Course: 3.2km
YMCA Swimming Pool: 1.1km
Haji Ali: 4.7km
Rani Baug: 1.6km

Retail
High Street Phoenix: 3.6km
CR2: 6.9km
Sobo Central Mall: 4.5km
Healthcare
Masina Hospital: 1.7km
Saifee Hospital: 6.8km
Wockhardt Hospital: 1.4km
Kasturba Hospital: 1.3km

Business Hub
Nariman Point: 6.6km
Cuffe Parade: 8km
The Baya Touch
At Baya, we always pay great attention to detail. Here are some examples of meticulous planning at The Baya Victoria: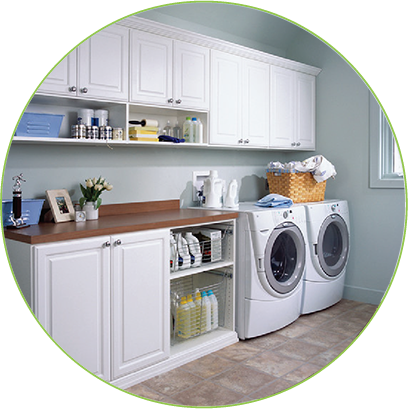 Special service area:
For washing machine
and other utilities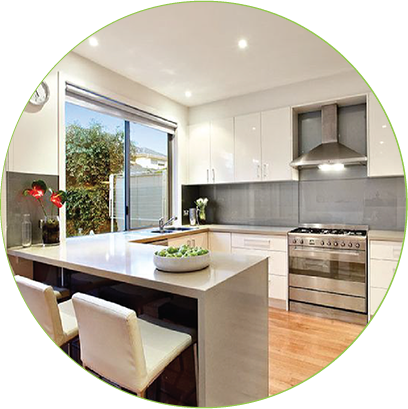 Open kitchen:
A half-wall to give virtual access
to the other rooms while cooking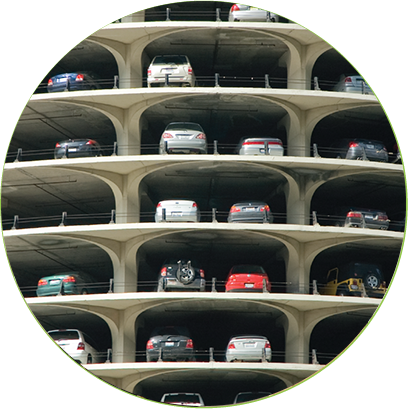 Multi-level parking with two car lifts:
safe parking for
your elegant wheels
AMENITIES AND FACILITIES AT A GLANCE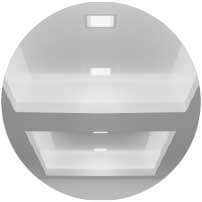 Designer Entrance Lobby
that exudes grandness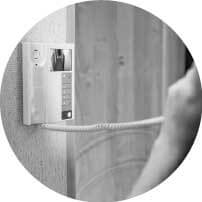 Intercom system
connecting all
apartments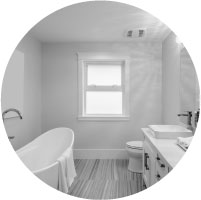 Hindware & Jaquar, or
equivalent sanitary and
CP fittings for that plush feeling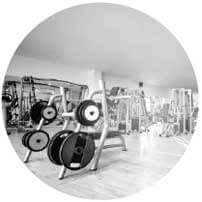 Well-equipped
gymnasium for a
daily workout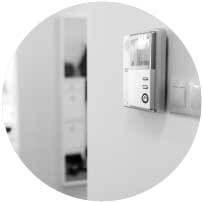 Video door phone
in every home
CCTV surveillance on
every floor and in
common areas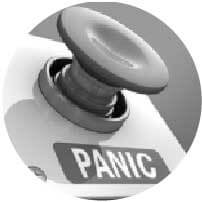 Panic switch in every
apartment to ensure
help is just a button away
DOWNLOAD PROJECT BROCHURE
To view the entire project brochure, leave your details below and we will get in touch with you
FLOOR PLANS AND UNIT PLANS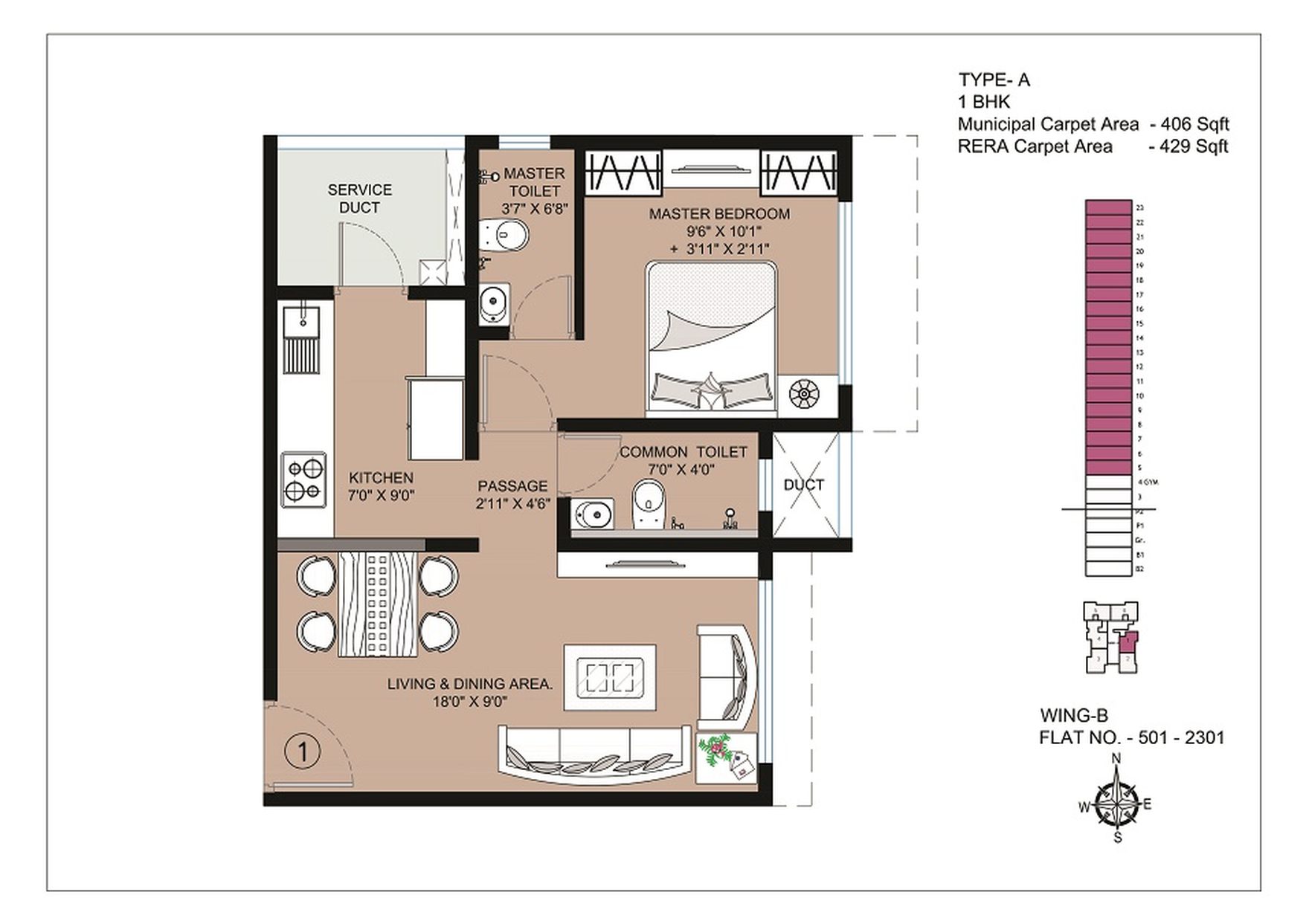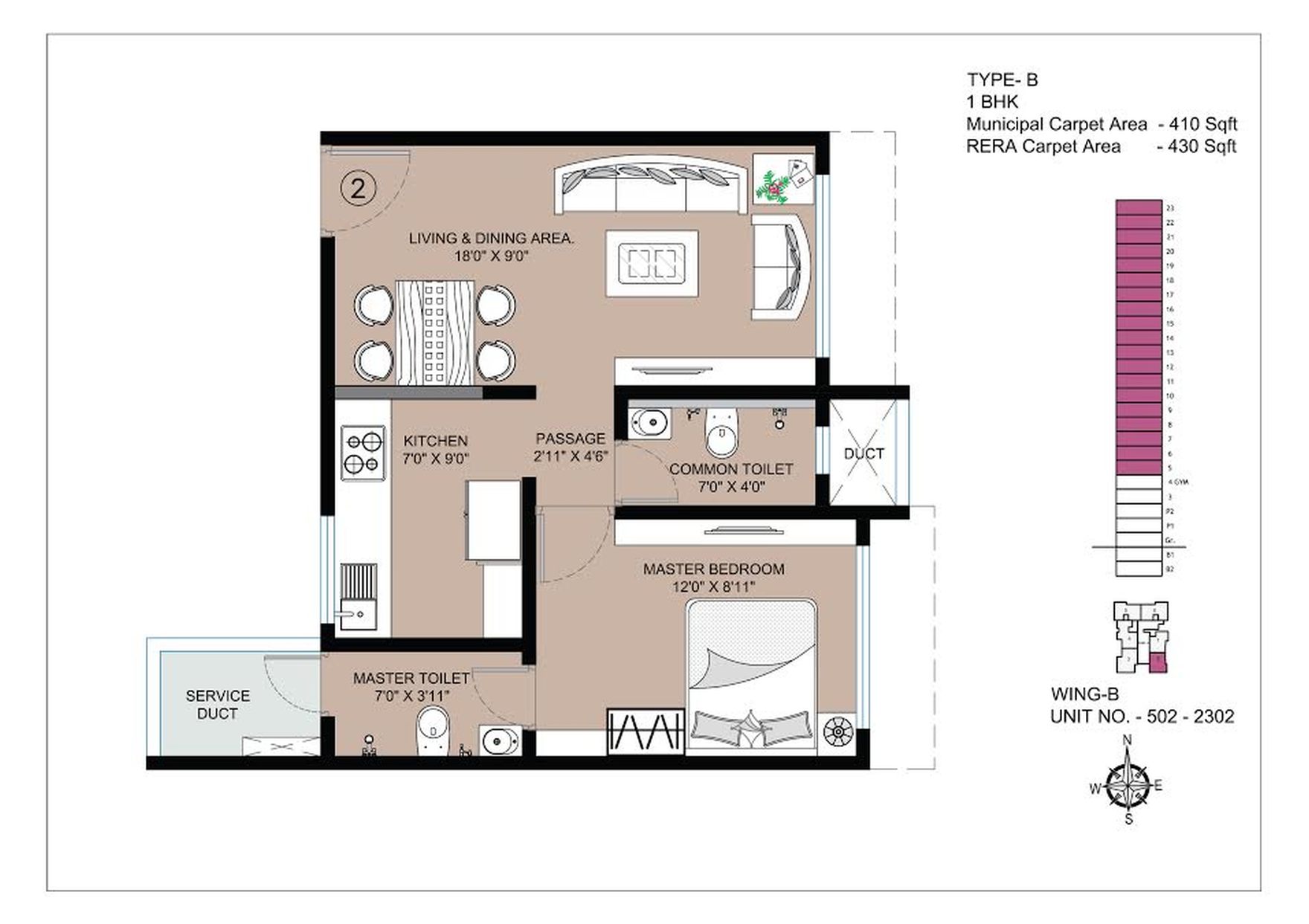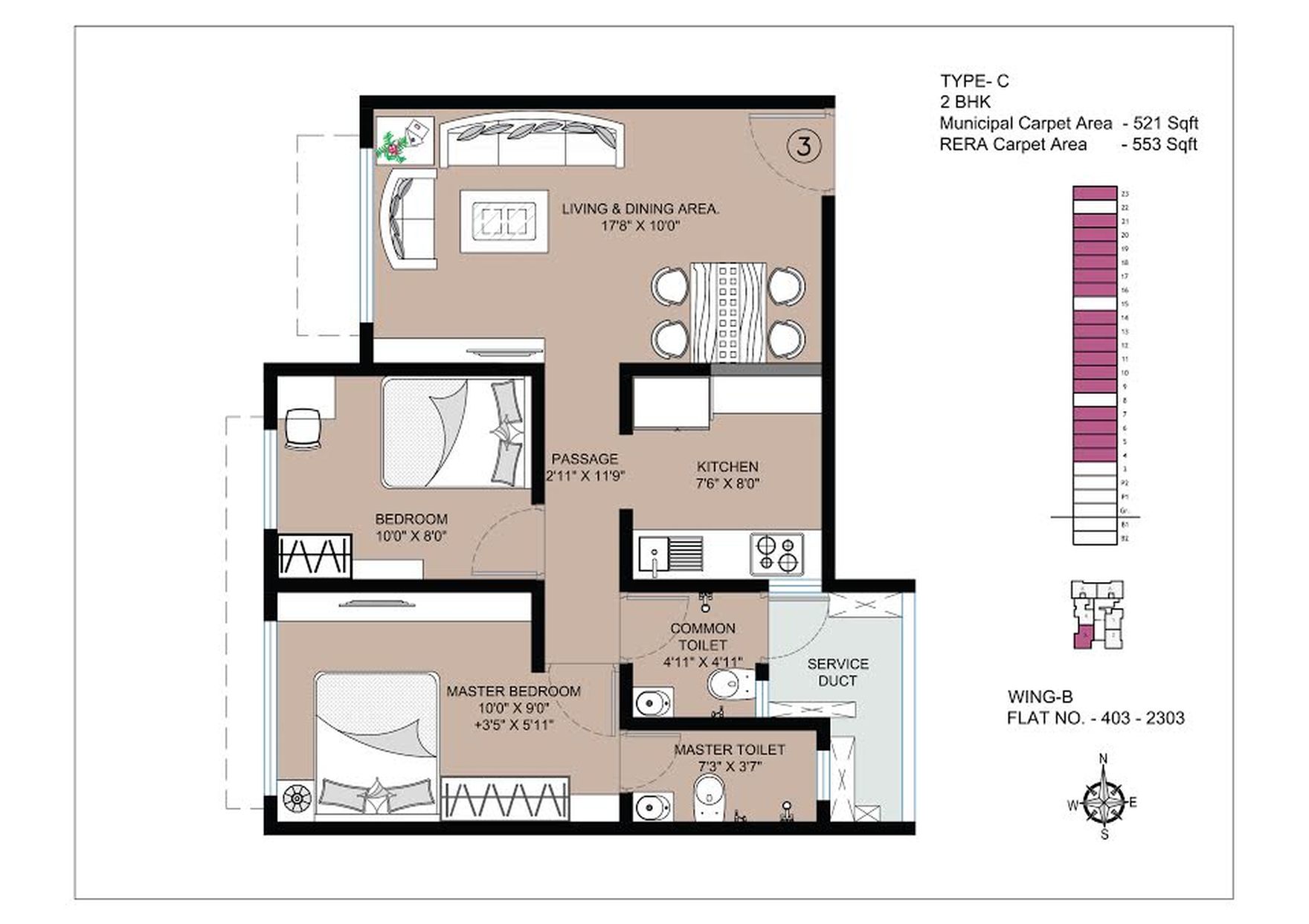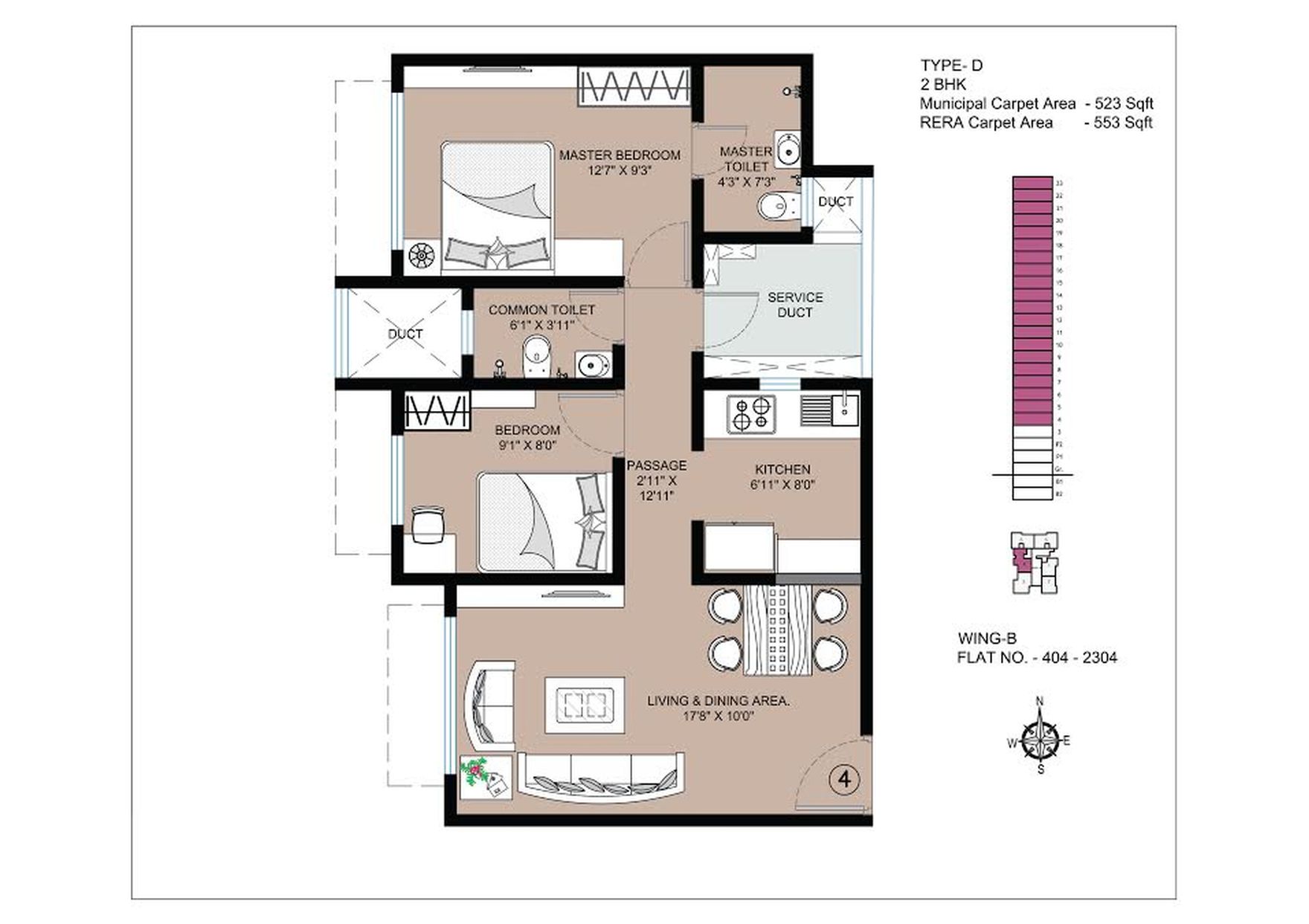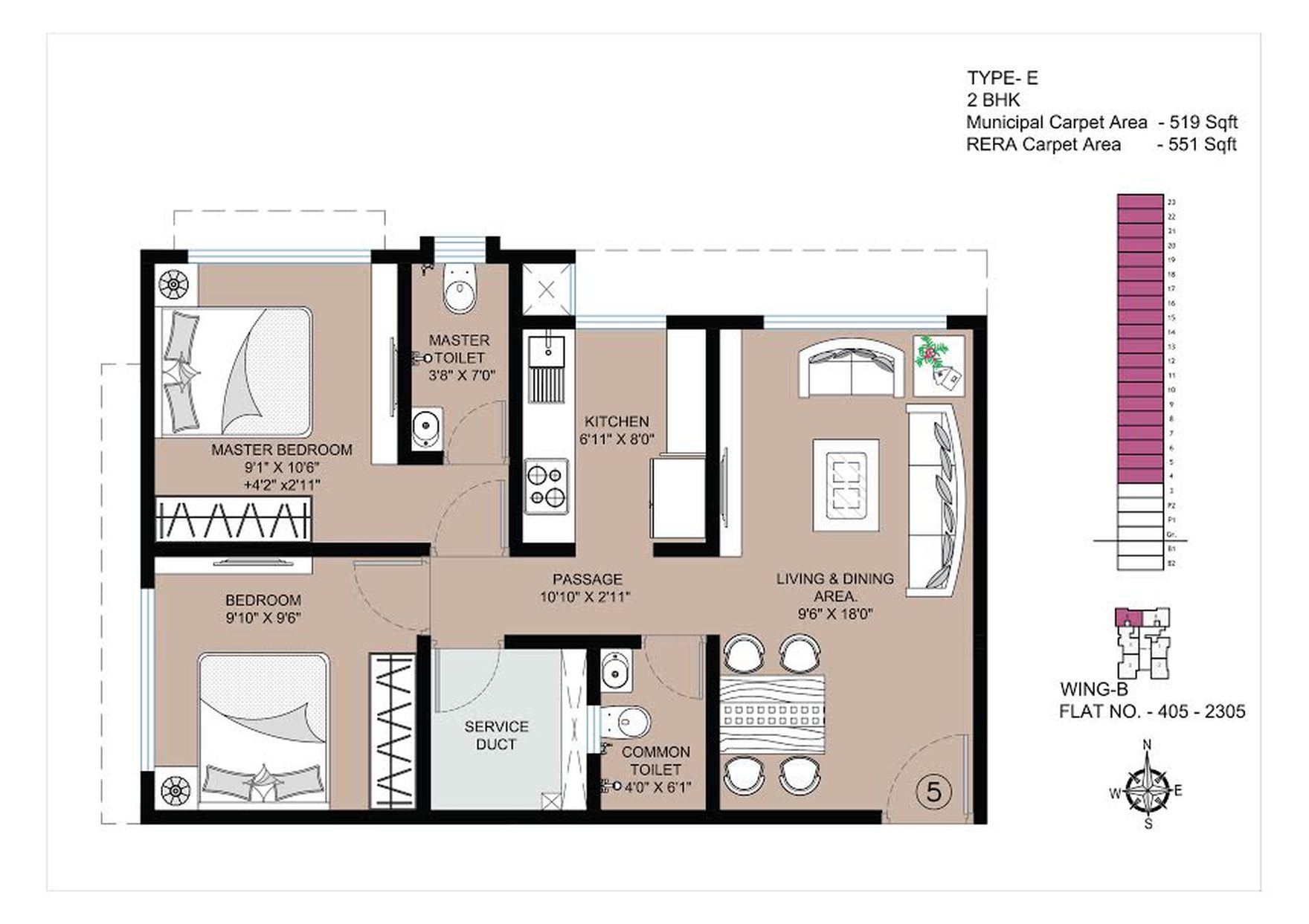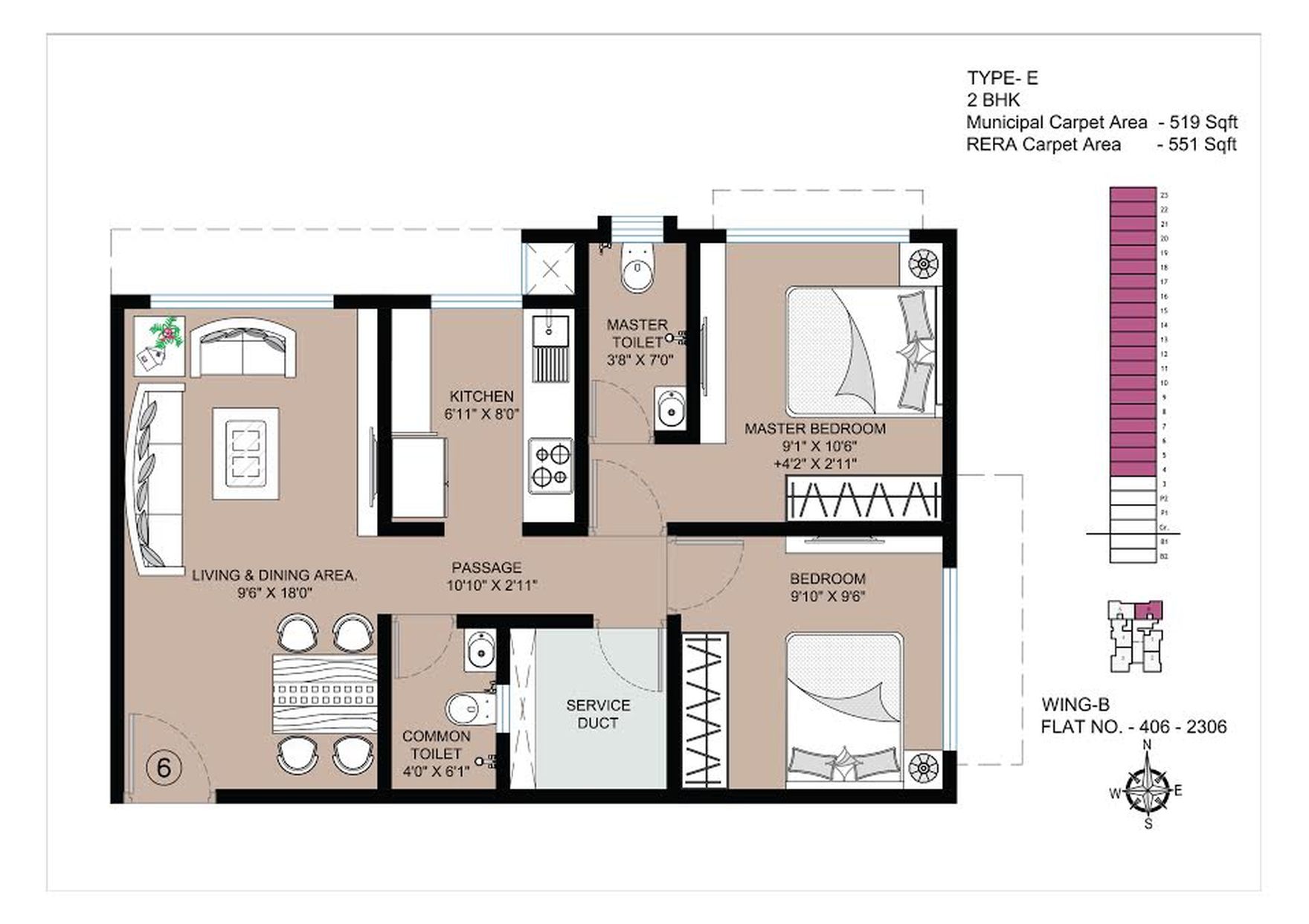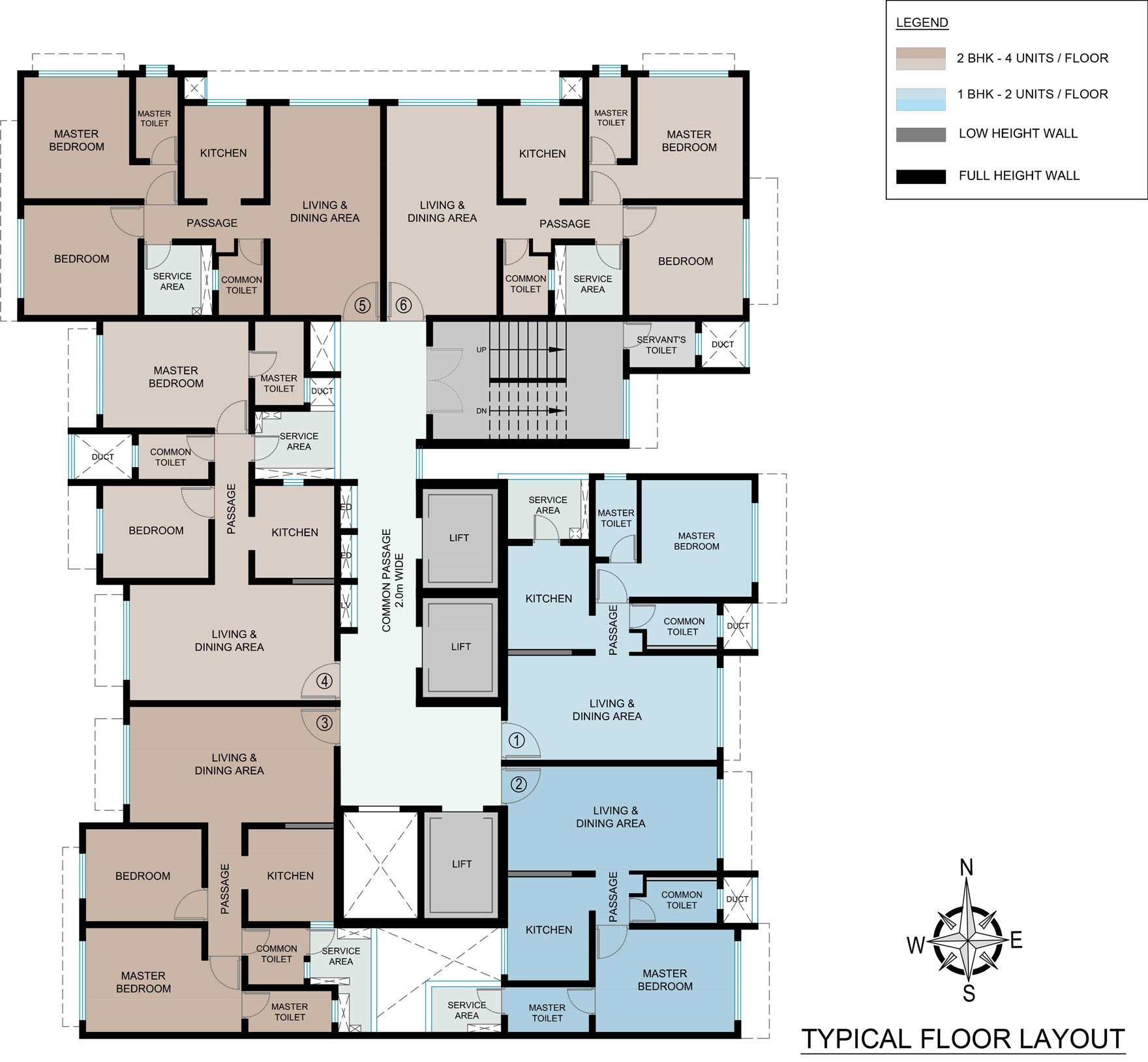 CURRENT STATUS
Construction Updates as on June 2022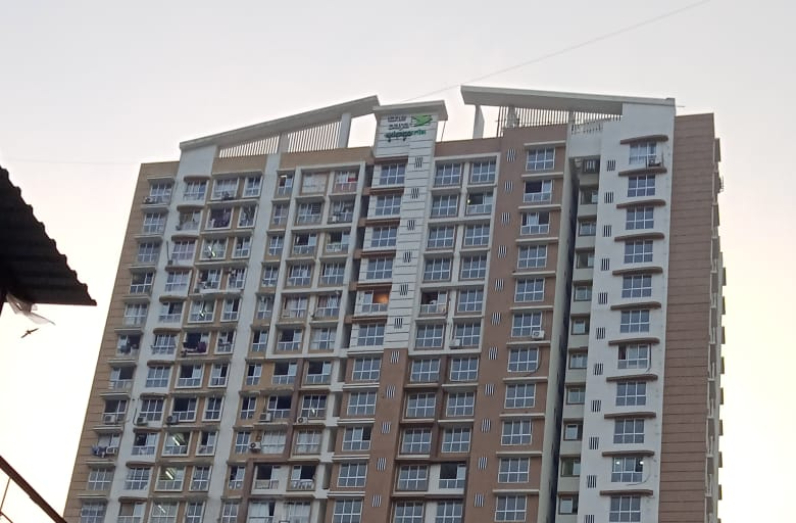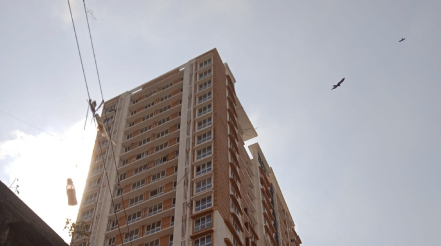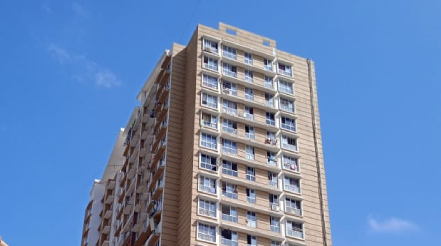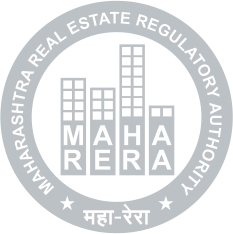 The project has been registered via
MahaRERA registration number:
P51900013240 and is available on the website
https://maharera.mahaonline.gov.in
under registered projects.
1 BHK/2BHK Flats in Byculla
The suburban zone of Mumbai, Byculla is rich in cultural significance. This area has remained as a tourist destination in Mumbai from the very beginning. In recent years, a lot of people are moving to Byculla due to its central connectivity to major suburbs of Mumbai. Flooded with mills at one time, it has become one of the most preferred residential destinations in Mumbai in the last few years. In the last decade only, this area has witnessed the development of hospitals, shopping malls, entertainment hubs, commercial spaces and a lot more in its vicinity. Byculla is the best place to live for people who want to enjoy the lavish and luxurious lifestyle of south Mumbai. Despite its prime locality, Byculla is offering many affordable housing solutions for people who need to take a break from fast running life in Mumbai.
All the real estate development that has been done in Byculla is a reflection of a more comfortable and convenient lifestyle which is a contrast to other locations in Mumbai. The luxurious flats available in Byculla can easily cost you crores. The introduction of several corporate hubs in this area has become a major factor of the increase in the price of its real estate. A lot of residential properties in this area offers you premium amenities like clubhouse, swimming pools, penthouses and a lot more. If you are looking to buy cheap 1 BHK flat in Byculla, the Baya Victoria is your best option.
Located at the walking distance of just a couple of minutes from Byculla Station, the Baya Victoria is one of the best residential planning in Byculla with one side facing to the Arabian Sea while the other towards the Rani Bagh. The Baya Company is offering cheap 1 BHK flats in Byculla which is gaining the attention of a lot of families and working professionals who wish to settle in South Mumbai. Located in the heart of South Mumbai, The Baya Victoria is a perfect place to enjoy the breezy life of the city. Unlike other expensive real estate companies, this 23 stories giant offers cheap 1 BHK flats in Byculla with a massive carpet area of over 400 square feet.
The pristine location of Byculla is swiftly gaining prominence among all the white collar people, which is very evident the moment you step out from the Byculla railway station.The natives of Bombay may not even recognize the locality in the first place, given the massive transformation it has achieved from once being the mill hub of Mumbai to one of the fastest growing real estate attraction for every developer and resident of Mumbai.
In retrospect, the prices of luxury flats may dig a deep hole into your pocket, save for the last few affordable 1 BHK flats in Byculla at the Baya Victoria.
The Baya Company is one of the most prominent real estate developers in Byculla wherein all of your requirements related to 1BHK or 2 BHK flats in Byculla are taken care of in a high rise of 23 storey tower at astonishingly low prices.
Schedule a Visit
If you would like to schedule a visit, or receive any more information, please feel free to contact us using the form below and we will get back to you shortly.

Chat on Whatsapp
Back to Top
Warning
: include(/templates/footer-scripts.php): failed to open stream: No such file or directory in
/home/thebayacompany/public_html/the-baya-victoria-byculla/index.php
on line
816
Warning
: include(): Failed opening '/templates/footer-scripts.php' for inclusion (include_path='.:/opt/cpanel/ea-php74/root/usr/share/pear') in
/home/thebayacompany/public_html/the-baya-victoria-byculla/index.php
on line
816