SCHEDULE A VISIT
If you would like to schedule a visit, or receive any more information, please feel free to contact us using the form below and we will get back to you shortly.
Welcome to The Baya Company. As one of Mumbai's premier new-generation real estate developers, we are home to a set of values, experience and culture that spans five decades. With a presence that spans over 5,00,000 square feet in Mumbai, we believe in giving you a lifetime value. Discover the synergy of our engineering and resource planning that has ensured the on-time delivery of each of our projects across Mumbai.
Come, be a part of The Baya family and discover the little details that make a big difference
9,19,787 Sq Ft
Developed
spaces
17,26,009 Sq Ft
Under
Construction
1568
Number of happy homes
delivered on time
Locations
Ongoing
Upcoming
Completed
The Baya App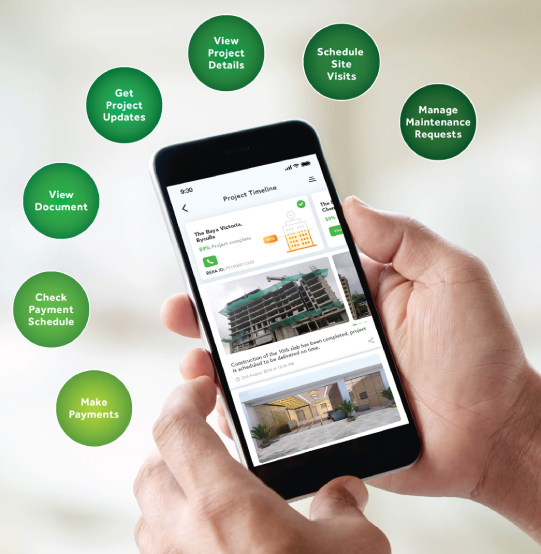 At The Baya Company, we always strive to break down the walls of complexity and offer services in their simplest and purest form. That is the reason we have launched the new Baya App, a one-stop destination to track every movement related to your purchase. Here you can check notifications on construction updates, check project-related documents, view payment schedules, and even make payments, all through this one app.
And it doesn't just stop there. Once our customers move into their new home, they can also request for maintenance services through the app, thereby ensuring a seamless living experience for them and their family
Our app is available for free on both platforms, iOS and Android. It is also optimized for iPad and Tablets. Download the app for free from the respective stores:
A home is probably one of the biggest investments that you will make in your life. This investment can increase by many folds if you are planning to buy a piece of real estate in Mumbai which is also the financial capital of India. With consistently increasing population and expansion of city vertically, the prices of real estate in Mumbai have touched the sky. It did not take a lot of time for real estate developers in Mumbai to acknowledge that the urban population of the city continue to expand due to the increasing employment opportunities. As the city is surrounded by sea on its three sides, it is possible to expand it in only one direction which results in a tremendous increase in the prices of real estate in Mumbai.
Real estate developers in Mumbai have realized the fact that the continuously increasing demand for real estate in the city can only we met by expanding the city both horizontally and vertically. As the city continued to grow in its nearby vicinity, it gives Mumbai real estate developers a new opportunity to expand their projects to accommodate the increasing population.
As one of the leading real estate developers in Mumbai, The Baya Company has successfully executed several real estate projects. The Baya Company is well recognized for the development of profitable and valuable real estate projects in Mumbai with big premium real estate projects completed in Dadar, Andheri and Wadala regions of Mumbai, The Baya Company can help you find the perfect piece of real estate to fulfil your residential needs.
Purchasing property in one of the most expensive cities in the world can be tiresome. Before meeting a bunch of real estate developers in Mumbai, you need to make sure what type of real estate you are looking for. If you are looking to buy a new home for your family, you need to make sure that it is an easier place to approach from your workplace, your kid's school etc. While considering different builders in Mumbai, you need to check the best way of transit to your daily destination from the property they are offering you. As the traffic conditions are always congested in the city and the distances are usually longer, you need to prevent yourself from buying a real estate property that can interfere in your daily routine.
If you are on your way to meet real estate builders for a property, you need to keep in mind the convenience of approachability for your employees and clients. You need to have a thorough discussion of the same with your builder or broker. There are many developers in Mumbai who can provide you premium spaces at prime locations but it can cost you significantly more than usual. The Baya Company understands your needs very well and provides you best in class real estate options at prime locations in Mumbai at a competitively affordable cost.
The major thing you need to set with your real estate developer is the financial plan. You need to clearly discuss your plan of action for the property you are willing to purchase. A lot of finance companies and private financers are facilitating loans for residential and commercial properties and they seem to have tied up with many real estate builders in Mumbai. As purchasing a piece of real estate in Mumbai is a huge amount of investment, even the slightest difference in financing factors like the rate of interest, processing fees, foreclosure charges etc can cost a huge amount of money.
It may be a tiring task to meet multiple real estate developers and check out different properties before making your final decision. But it is quite necessary because purchasing real estate in Mumbai can be very expensive and you do not want to block your capital on a bad investment. Before meeting any real estate builders, you need to check out the previous projects they have completed, finance availability on their properties, quality of construction and other amenities that they are offering on your purchase.
You can always rely on the Baya Company who has been instrumental in developing top of the chart real estate projects in Mumbai for quite long. The group has successfully completed four real estate projects and is working on three other projects in Mulund, Chembur and Byculla. With a team of experienced professionals equipped with state-of-the-art technology in the field of construction and architecture, The Baya Company makes sure that your real estate needs are met to the maximum extent within your budget..
The Baya Blog
Read about the latest articles from the Baya Blog.

Chat on Whatsapp
Back to Top